M-Files API 22.6.11519.0
M-Files API is a collection of classes and operation interfaces. Each class represents a feature or data item of the M-Files system. With the API, you can access, modify and create documents stored in an M-Files vault. You can also perform searches and display documents and other objects, access and modify the metadata associated with documents, access and modify document workflows, and much more.
You can also make use of the M-Files Web Service API for programmatic access to M-Files through a REST-like interface, or the M-Files UI Extensibility Framework for developing external add-ins (M-Files Applications) to modify M-Files Desktop behavior.
Follow these links for the documentation:
The operation mode of the M-Files API is chosen by the top-level access class; environments with the M-Files client application installed can use the M-Files API in the client mode and access the MFilesClientApplication interface. If the M-Files API is used in an environment without the M-Files client application, the M-Files server can be accessed directly by using the MFilesServerApplication interface.
The main functionality is built around the vault object, which can be acquired by using either application interface. The vault object contains various operation interfaces, which can be used to perform operations or to access other support objects.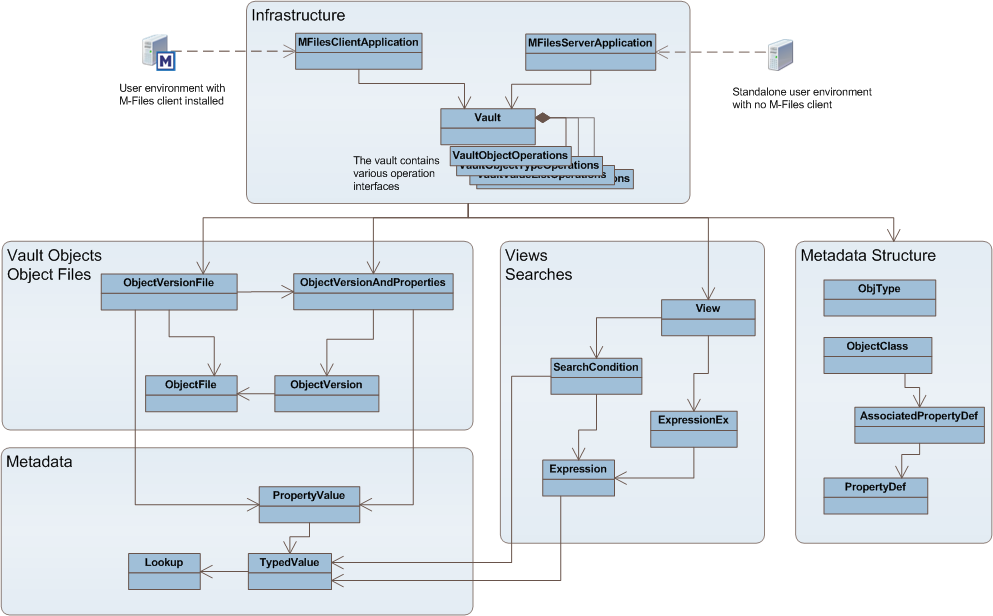 Navigability among the M-Files API classes. The diagram does not contain all of the classes and has been simplified for clarity.
For M-Files API samples, visit https://www.m-files.com/api.
Objects and Methods for Administrative Operations
Objects and methods that have their name postfixed with "Admin" (such as ObjTypeAdmin and VaultWorkflowOperations.AddWorkflowAdmin) provide functionality specifically available in M-Files Admin.