The approach shown below is only compatible with version 2.0 of the Vault Application Framework, where the target audience runs M-Files 2018 or higher. If using version 1.0, or to maintain compatibility with M-Files 2015.3 and lower, configuration attributes should be used instead.
Each configuration node can define a method which builds a dashboard which is shown to the user when they select the "Dashboard" tab for the application within the M-Files Admin software. In the sample below, the DashboardGenerator method has been set as the generator for the configuration node. This method must return a valid HTML string which will then be displayed.
Only simple HTML is allowed; elements such as <script> will be ignored.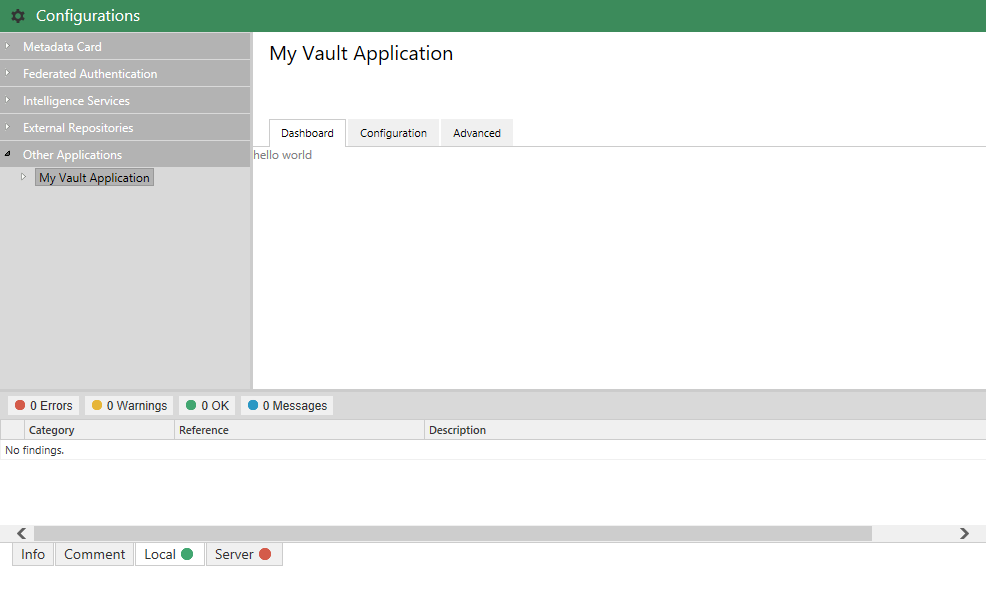 Using helper functions
Generating the HTML for standard dashboard components can be done through the use of the StatusDashboard class. Once the dashboard is populated, the HTML required to render it can be retrieved by calling its ToString method:
Dashboard contents
The StatusDashboard has a property named Contents which is a collection of items that are shown within it. Whilst the built-in implementations are shown below, any class which implements the IDashboardContent interface can be added to the collection.
Panels
// Create the panel.




var

 

panel

 

=

 

new

 

DashboardPanel

()




{


	

Title

 

=

 

"Dashboard panel 1"




};





// Panels can also contain other dashboard content like lists or text




// (not shown, for clarity).




// panel.InnerContent.Add( ... )





// Set up the dashboard.




var

 

statusDashboard

 

=

 

new

 

StatusDashboard

();




statusDashboard

.

Contents

.

Add

(

panel

);





// Return the HTML.




return

 

statusDashboard

.

ToString

();



Lists
// Create the list.




var

 

list

 

=

 

new

 

DashboardList

()




{


	

Title

 

=

 

"My list"




};





// Add a list item.




list

.

Items

.

Add

(

new

 

DashboardListItem

()




{


	

Title

 

=

 

"First List item"

,


	

StatusSummary

 

=

 

new

 

DomainStatusSummary

()


	

{


		

Status

 

=

 

DomainStatus

.

Enabled


	

}




});





// Set up the dashboard.




var

 

statusDashboard

 

=

 

new

 

StatusDashboard

();




statusDashboard

.

Contents

.

Add

(

list

);





// Return the HTML.




return

 

statusDashboard

.

ToString

();



Text
// Create the text.




// Any newlines (\n) in the text will be respected in the HTML rendered.




var

 

dashboardText

 

=

 

new

 

DashboardText

(

"line 1\nline 1"

);





// Set up the dashboard.




var

 

statusDashboard

 

=

 

new

 

StatusDashboard

();




statusDashboard

.

Contents

.

Add

(

dashboardText

);





// Return the HTML.




return

 

statusDashboard

.

ToString

();



Custom content
// Create the custom content.




var

 

customContent

 

=

 

new

 

DashboardCustomContent

(

"<table><tr><td>Item 1</td><td>Item 2</td></tr></table>"

);





// Set up the dashboard.




var

 

statusDashboard

 

=

 

new

 

StatusDashboard

();




statusDashboard

.

Contents

.

Add

(

customContent

);





// Return the HTML.




return

 

statusDashboard

.

ToString

();



Allowed HTML tags and attributes
The following HTML tags are allowed within dashboards:
<h1></h1>
<h2></h2>
<h3></h3>
<h4></h4>
<h5></h5>
<h6></h6>
<blockquote></blockquote>
<p></p>
<a></a>
<ul></ul>
<ol></ol>
<nl></nl>
<li></li>
<i></i>
<strong></strong>
<em></em>
<strike></strike>
<code></code>
<hr />
<br />
<div></div>
<span></span>
<button></button>
<table></table>
<thead></thead>
<caption></caption>
<tbody></tbody>
<tr></tr>
<th></th>
<td></td>
<pre></pre>
The following attributes are allowed:
<a></a>
<img />
(all elements)

id
name
class
style
data-*
Tips and tricks
Displaying an image in a dashboard
The content rendered within a dashboard is limited, and HTML <img /> tags are not directly supported. It is, however, possible to render an image within a dashboard:
// Read the image and convert it to a Base64 encoding format.




var

 

image

 

=

 

DashboardHelper

.

ImageFileToDataUri

(

"image.png"

);





// Create a dashboard panel for the content to sit into.




var

 

panel

 

=

 

new

 

DashboardPanel

();




panel

.

InnerContent

 

=

 

new

 

DashboardContentCollection

()




{


	

// Add the image as a CSS background to a div.


	

new

 

DashboardCustomContent

(

$"<div style='background-image: url(

{

image

}

); background-repeat: no-repeat; height: 92px; width: 92px'></div>"

),




};





// Set up the dashboard.




var

 

dashboard

 

=

 

new

 

StatusDashboard

();




dashboard

.

Contents

.

Add

(

panel

);





// Return the HTML.




return

 

dashboard

.

ToString

();